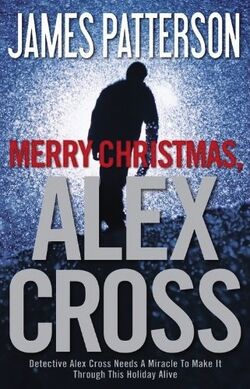 A new book is out soon, Alex Cross fans, and Merry Christmas, Alex Cross looks like a doozy! For people new to the series, it might seem too hard to get into a series that is already nineteen books long! Don't worry, because here is a starter's guide for new fans!
Who is Alex Cross?
Alex Cross is a fictional character and the protagonist of a series of books by novelist James Patterson. Cross is a detective and psychologist living and working in the Southeast quadrant of Washington, D.C. He works in the homicide division of the Metropolitan Police Department of the District of Columbia (MPD), but eventually becomes a Senior Agent with the Federal Bureau of Investigation (FBI).
After his stint with the FBI, Alex returns to private psychology practice, but continues to consult for the MPD and the FBI as needed, ultimately rejoining the MPD as a special consultant to the Major Case Squad.
What are these books about?
Alex Cross is a series of mystery/crime novels by James Patterson who also wrote series like Maximum Ride and Daniel X. In each novel, Cross deals with antagonists like The Weasel, The Wolf, and more. He has handled kidnappings, murders, and even weird stuff like a cult of vampires in the book Violets Are Blue!
Adaptations
There have been a couple of adaptations of the Alex Cross series. Morgan Freeman played Alex Cross in the films Along Came a Spider and Kiss the Girls, but Tyler Perry will take on the role of Cross in the 2012 Alex Cross movie.
What is Merry Christmas, Alex Cross?
Merry Christmas, Alex Cross is the nineteenth novel in the series. A 101-page version was actually released as a novella by Barnes & Noble, but a hardcover copy (400 pages) is to be released in November 2012.
In this novel, it's Christmas Eve and Detective Alex Cross has been called out to catch someone who's robbing his church's poor box. He successfully completes that task and returns home to celebrate with Bree, Nana, and his children. The tree decorating is barely underway before his phone rings again because a horrific hostage situation is quickly spiraling out of control!

Now that you know the basics, pick up an Alex Cross book and start reading!
---
---