Mary, Mary
is the eleventh novel by
James Patterson
featuring the former Washington, D.C. homicide detective and forensic psychiatrist and current FBI agent
Alex Cross
.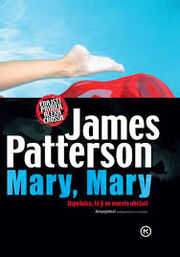 Plot Summary
Edit
Somebody is murdering Hollywood's A-list. Her calling card: "You've got mail." On a family vacation, FBI agent Alex Cross is asked to investigate the shooting of a top actress and an e-mail sent to the Los Angeles Times with shocking details about the murder, signed Mary Smith. More killings and more e-mails follow, and Mary Smith is getting better every time. To hunt down this merciless killer of Tinseltown's elite, Cross must navigate a world where the stars sip San Pellegrino at the Ivy as hopefuls hover around studio gates with 8 X 10 glossies. And when the case catapults into blockbuster proportions, Cross and the LAPD scramble to find a pattern-before Mary sends one more chilling update.[1]
Characters
Edit
References
Edit
Ad blocker interference detected!
Wikia is a free-to-use site that makes money from advertising. We have a modified experience for viewers using ad blockers

Wikia is not accessible if you've made further modifications. Remove the custom ad blocker rule(s) and the page will load as expected.