For other uses, see Cross (disambiguation)
Cross
is
James Patterson
's twelfth novel featuring his most famous character,
Alex Cross
.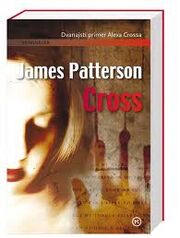 Plot Summary
Edit
Alex Cross was a rising star in the Washington, DC, Police Department when an unknown shooter gunned down his wife, Maria, in front of him. Alex's need for vengeance was placed on hold as he faced another huge challenge-raising his children without their mother. Years later Alex is making a bold move in his life. He has left the FBI and set up practice as a psychologist once again. His life with Nana Mama, Damon, Jannie, and little Alex finally feels like it's in order. He even has a chance at a new love. Then Cross's former partner, John Sampson, calls in a favor. He is tracking a serial rapist in Georgetown, one whose brutal modus operandi includes threatening his victims with terrifying photos. Cross and Sampson need the testimonies of these women to stop the predator, but the rape victims refuse to reveal anything about their attacker. When the case triggers a connection to Maria's death, Alex may have a chance to catch his wife's murderer after all these years. [1]
Characters
Edit
References
Edit
Ad blocker interference detected!
Wikia is a free-to-use site that makes money from advertising. We have a modified experience for viewers using ad blockers

Wikia is not accessible if you've made further modifications. Remove the custom ad blocker rule(s) and the page will load as expected.