For other uses, see Alex Cross (disambiguation)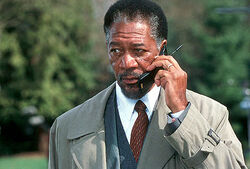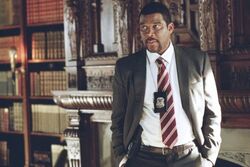 Alex Cross
is a fictional character and the protagonist of a series of books by novelist
James Patterson
. A few of the books have been adapted into
films
starring Morgan Freeman and Tyler Perry.
Alex Cross in the novels
Edit
Cross is a detective and psychologist living and working in the Southeast quadrant of Washington, D.C. He works in the homicide division of the Metropolitan Police Department of the District of Columbia (MPD), but eventually becomes a Senior Agent with the Federal Bureau of Investigation (FBI). After his stint with the FBI, Alex returns to private psychology practice, but continues to consult for the MPD and the FBI as needed, ultimately rejoining the MPD as a special consultant to the Major Case Squad.
As portrayed by Patterson, Cross is a cynical, deeply lonely man, but nevertheless a model father and quite empathetic in dealing with the public. Despite the fact that he is well-educated and makes a decent living, he chooses to live in the Southeast quadrant of D.C. He is very involved in the community, most notably volunteering at St. Anthony's Parish in his neighborhood.
Alex Cross Novels
Edit
Alex Cross Films
Edit